Mentee Spotlight
Arushi Nath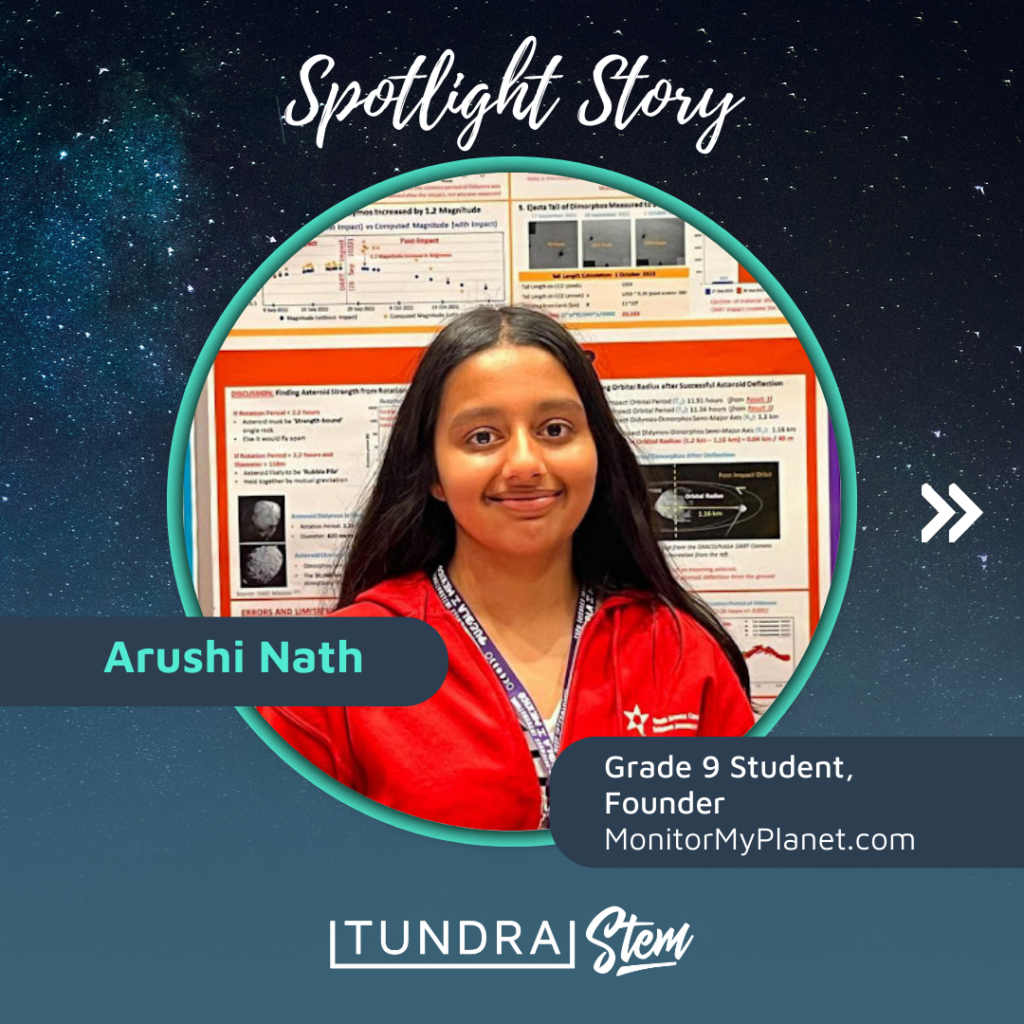 We had the pleasure of interviewing Arushi Nath, a Grade 9 science prodigy at Bloor Collegiate Institute in Toronto, Canada, who is a shining example of what young minds can achieve with passion, dedication, and a love for science.
Arushi's fascination with space ignited when she was just seven years old. She spent hours gazing at the night sky on her balcony, a simple act that would later shape her future. The Ontario Science Center invited Arushi to a presentation where she learned about the Royal Astronomy Society of Canada. Once she had the opportunity to use their telescope, her interest in astronomy took flight.
Last year, Arushi learned about the importance of planetary defense by discovering hundreds of near-Earth asteroids detected every month and realized few professional astronomers have the means to analyze them. To address this, she initiated a project that would allow anyone with small telescopes to contribute to asteroid analysis. This concept, known as citizen science, empowers ordinary people to take part in scientific research.
In 2023, Arushi represented Canada at the European Union Contest for Young Scientists (EUCYS) in Brussels. Her award-winning algorithm aimed to study asteroids heading toward Earth and assess the success of deflection missions.
She is eager to connect with a mentor during Tundra's Launchpad Event, hoping to find a correlation and gain insights for her future endeavors.
Arushi's advice to fellow students:
Embrace risk and understand that a career is not a one-size-fits-all journey. When you're in a rut, acknowledge your feelings and have confidence in your abilities. If you're"First, make sure you are interested and passionate in what you're doing because you will have to overcome many challenges. For example, my project took about 800 hours in a 10-month span, and that's one project facing different problems." the only woman in the room, be resilient, and confident, and speak up with your ideas.

Arushi Nath, Grade 9 student, Founder of MonitorMyPlanet.com
Arushi's success story reinforces the importance of collaboration and seeking help when needed. She emphasizes, "At the beginning, you have to start on your own and draft mock models then ask for help, and you'd be surprised people are willing to help."
She shared, "There was a project I was working on, and I reached out to NASA for images, and they provided resources. If you ask, you'll be directed in the right direction."
Arushi's commitment to planetary defense and her unique problem-solving skills have taken her around the world, from the NASA Exploration Science Forum in Maryland, USA, to the Planetary Defense Conference in Vienna, Austria. Her tireless work and insightful presentations at over 40 national and international events underscore her commitment and capability far beyond her years.
For high school students interested in STEM fields, Arushi's journey is a reminder that the stars are not out of reach.